Important Radon Information from the EPA.
What is radon gas? Is it dangerous?
Radon is a naturally-occurring radioactive gas that can cause lung cancer. Radon gas is inert, colorless and odorless. Radon is naturally in the atmosphere in trace amounts. Outdoors, radon disperses rapidly and, generally, is not a health issue. Most radon exposure occurs inside homes, schools and workplaces. Radon gas becomes trapped indoors after it enters buildings through cracks and other holes in the foundation. Indoor radon can be controlled and managed with proven, cost-effective techniques.
Breathing radon over time increases your risk of lung cancer. Radon is the second leading cause of lung cancer in the United States. Nationally, the EPA estimates that about 21,000 people die each year from radon-related lung cancer. Only smoking causes more lung cancer deaths.
You can take steps to reduce and control the amount of radon in your home. Testing is the only way to determine radon levels. Have your home tested, either by a professional or with a do-it-yourself home test kit. If radon levels are high, contact a certified radon service professional to fix your home. EPA guidance suggests mitigating if levels are at or above 148 Becquerels/meter3 (4 picocuries/liter). Usually, radon problems are fixed using an underground ventilation system or by increasing the rate of air changes in the building. Source: epa.gov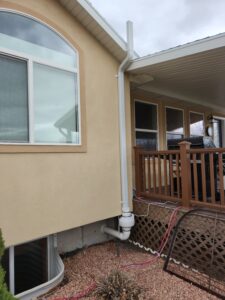 Exposure to Radon Causes Lung Cancer In Non-smokers and Smokers Alike
The Facts…
Lung cancer kills thousands of Americans every year. Smoking, radon, and secondhand smoke are the leading causes of lung cancer. Although lung cancer can be treated, the survival rate is one of the lowest for those with cancer. From the time of diagnosis, between 11 and 15 percent of those afflicted will live beyond five years, depending upon demographic factors. In many cases lung cancer can be prevented.
Smoking is the leading cause of lung cancer. Smoking causes an estimated 160,000* cancer deaths in the U.S. every year (American Cancer Society, 2004). And the rate among women is rising. On January 11, 1964, Dr. Luther L. Terry, then U.S. Surgeon General, issued the first warning on the link between smoking and lung cancer. Lung cancer now surpasses breast cancer as the number one cause of death among women. A smoker who is also exposed to radon has a much higher risk of lung cancer.
Radon is the number one cause of lung cancer among non-smokers, according to EPA estimates. Overall, radon is the second leading cause of lung cancer. Radon is responsible for about 21,000 lung cancer deaths every year. About 2,900 of these deaths occur among people who have never smoked. Source: epa.gov