1 in 3 Utah homes has Unsafe Radon Levels

Without Radon Testing you don't know if your home is at risk
Most radon mitigation systems can be installed within 2 weeks.
We Guarantee to get your radon level below 2.7 pCi/L/.
Your radon system has a Lifetime, Transferable Guarantee!
ABOUT US
Total Radon Solutions is a family owned Radon Testing and Mitigation company, located in Central Utah. We provide free Radon Testing and provide Free Bids to install a system to remove Radon from your home. We strive to exceed you expectations and install how we would want it in our own home.
Serving all of Utah with radon mitigation systems and concrete core drilling. We guarantee our work, and you will be pleased with our professionalism. Contact us today!
We started as home inspectors. Doing home inspections we became aware of how many homes in Utah have high radon levels. Nationally it is 1 in 15 homes, in Utah it is 1 in 3. When we saw the need for radon mitigation and realized the demand exceeded the available radon contractors, we moved from home inspections to radon mitigation. We are nationally certified by NRPP, and are AARST members. An advantage we have as a Family Owned Business is that we actually do our own install work. You're not getting a newly hired employee with limited training and experience, you're getting the actual owners of the company. Not only is our business name on every install, but our own name and reputation is on every system. We design a radon mitigation system that not only works correctly, but compliments your home. We install where it will function well and be aesthetically pleasing. The easiest place to install the system is not chosen at the expense having an unsightly system in the wrong location.
We look forward to helping you with your radon mitigation system! Give us a call today! Total Radon Solutions, The Radon Removal Experts.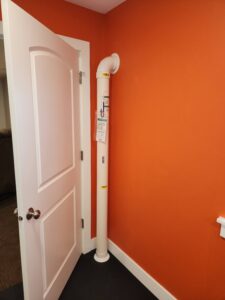 Licensed, Insured, and Bonded.